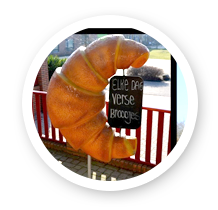 The "That's Fresh" supermarket offers freshly baked rolls every day. From 8:00 on, the smell of freshly baked bread will fill the air! We will have delicious croissants and various kinds of rolls. Next to that we sell your favourite daily paper.
Every day, the baker will bring white and wholegrain bread. This way you will always have your daily fresh sandwich in the morning.
We not only sell fresh bread every day, but we also prepare ready-made breakfast and small and large packages of general groceries.