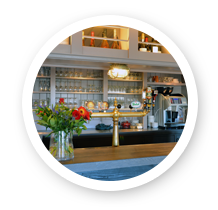 We have been receiving and catering to our guest in our own traditional way for over 20 years, all year round! Also outside of the holiday season we organise perfectly organised dinners, fun afternoons and evenings, with delicious food and your entertainment of choice. In addition to our highly varied menu, we also serve outstanding and affordable wines. We have selected a number of great wines from our wine cellar for you. A bottle of these delicious wines only costs € 16,50.
Lately the restaurant has been completely restyled to the latest trends. You will feel welcome in both the "Veurhoes" and the "Achterhoes". We have a playground for children inside the restaurant. The children will even get a present when they are going home again!
Follow us on Facebook!